Life :: IKEA Wishlist

Honestly, is there anything better than dreaming about all the fun stuff you can get from IKEA?
Andrew and I have been in our house for 2 years this week, and literally, there isn't a room in my house that is 100% complete.
Either a room needs pictures put up, storage is needed, blinds still required. So now I am seriously wanting to get the house finished and decorated.
I love when the catalogue drops on the doorstep. I love IKEA. I'm so excited to actually finish decorating the second bedroom. Right now it's such a disaster, mainly because I need more storage space. I have a ridiculous amount of paper and craft stuff just lying around in boxes waiting to have a home.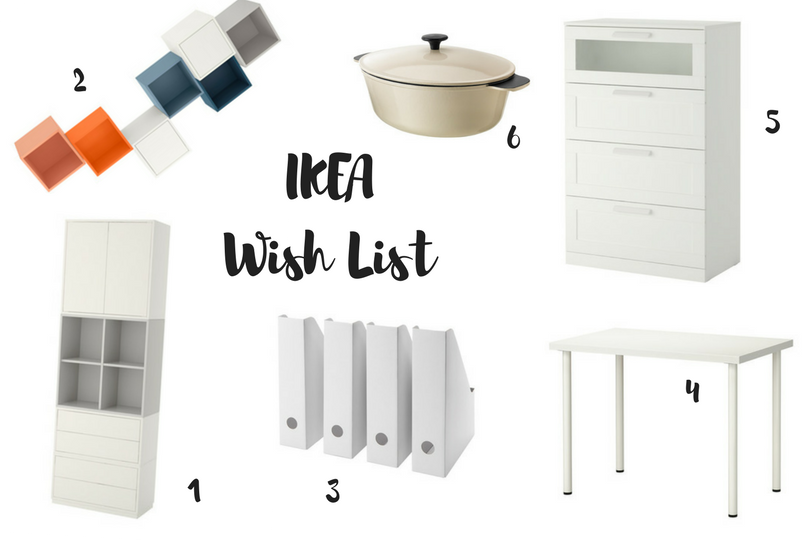 I've actually done a bit of shopping at IKEA (I now currently need to assembly it all) (I've also purchased most of the above with the exception of the dresser – I didn't have enough space on my cart for it!) and now my house is in a state of disarray while I'm building the furniture.
The EKET storage system is one that I'm pretty excited about (1 & 2).
I'm planning on using it for majority of my paper storage. It'll hold that mass amounts of paper, cards, envelopes, scrapbooking and letter writing stuff. The box shelves I'm going to put on the wall and use it to store books and my journals. I think the rest of the stuff is fairly self-explanatory.
I also picked up some garbage cans to use as a kitchen laundry hamper for wash cloths and tea towels; a couple of side lamps for the bedroom; a new vegetable knife; a french press; bed sheets; and a couple little odds and ends. I'll have to head back there for a new dresser still and some more shelving for more books.
My goal is to have all of this done by Christmas! Sooner would be preferable, but building IKEA furniture is not the quickest thing in the world. Plus, the organization portion is going to be time consuming, too.
What would you get at IKEA?
J x
---
---