Travel :: Road Trip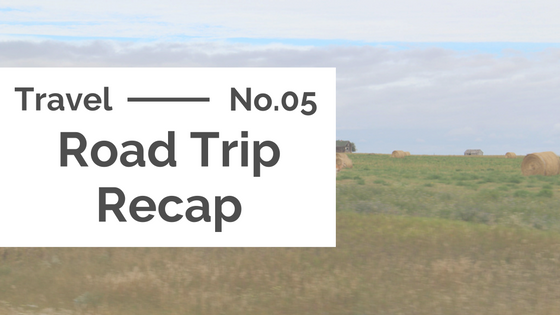 Hard to believe that my vacation has come and gone. Our road trip out West was a blast, and we both weren't ready to go back to the real world.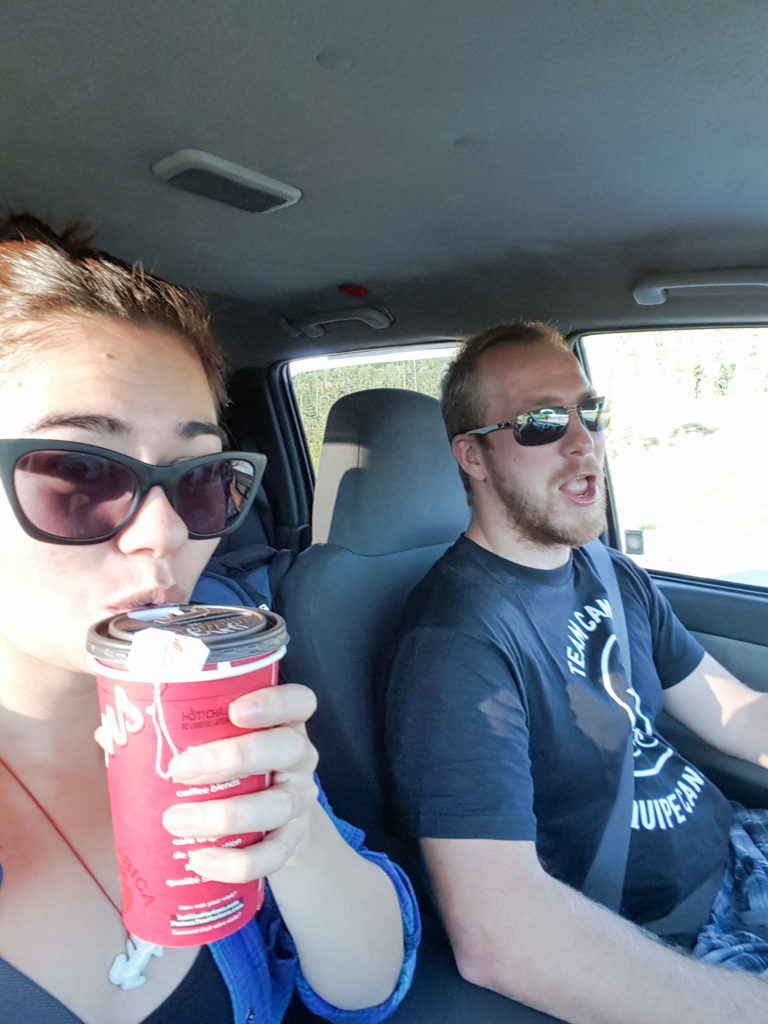 Gosh, where to even begin? We left on September 2nd, at the crack of dawn (aka 5am) and hit the road. We threw everything in the back of the truck, and started our mega long trek to Dryden, ON to hang out with Andrew's sister. No mean feat, let me tell you. Dryden is 19 hours north of the Toronto/Oakville area, and mostly a one-lane highway. A lot of construction is happening to expand it, but it's 90km/hr or slower.
The highlight of this 19 hour drive? Lake Superior.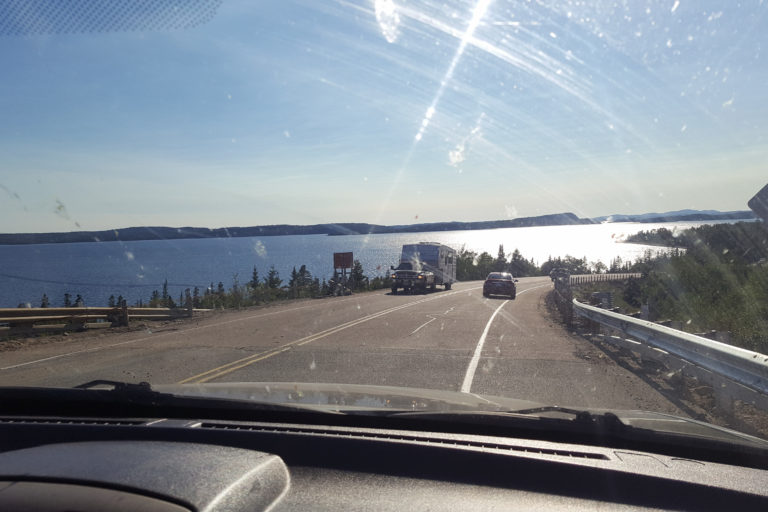 Lake Superior is absolutely stunning, and the drive, while long and time consuming, goes right alongside it. You get to see every detail of the lake, uphill and downhill, with quite a few pull-off stops to take pictures. Andrew and I were on a tight schedule, so we didn't stop.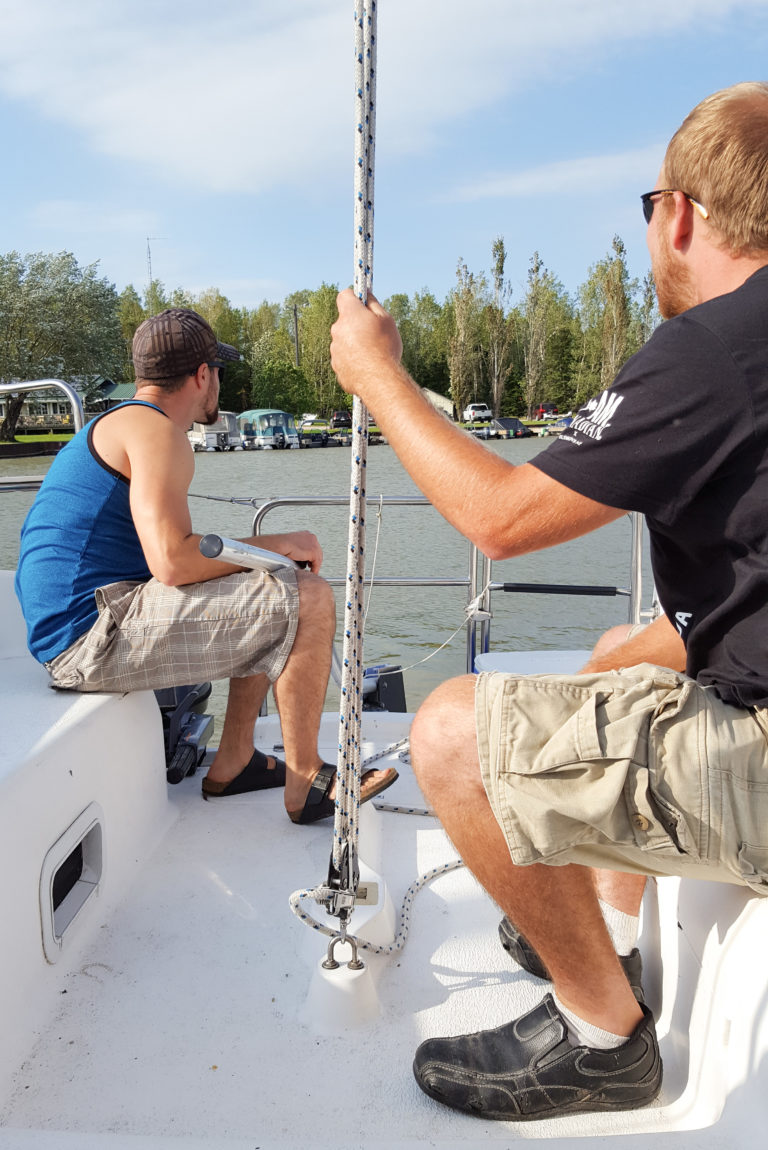 We did take a short cut, of about 100km of dirt road, which Andrew felt was exciting. It was, until the gravel ripped off the lightbar on the front of the truck! Andrew was unimpressed by this, although it didn't slow us down too long. We drove into Wawa for a pitstop and then kept on rolling. We got to Dryden at about 11pm (although Dryden is in a different time zone so we gained an hour!) and we made it in time to catch some of the Northern Lights above the trees.  So pretty! We decided to stay another night in Dryden, so we hung out with Julie and then she introduced us to some of her friends. We hung out, her friend took us sailing (which is terrifyingly fun), and then we had a BBQ at another guy's house and I finally learned how to play Euchre.
---
Tackling the Prairie Drive
Sunday morning rolled around and we were back on the road (after a hearty breakfast – the first of many). We did a quick stop in Brandon, MB for gas and a stretch, and then hit the road again. We made it to Regina, SK for dinner (which was delicious and CHEAP, and caught some of the game highlights). After contemplating whether to continue on or stay in Regina, we decided to keep driving to Swift Current, SK and sleep there.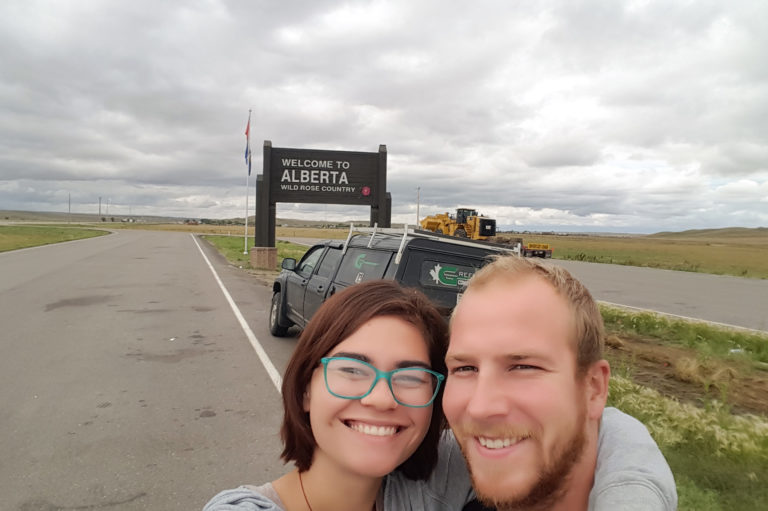 Probably a good idea to continue driving, because it shortened the amount of driving into Calgary the next day. Yay Calgary! I did not pack accordingly to the Calgary weather though – Andrew and I both had to go out and buy a sweater. It was a little rainy and a little chilly, so we got to our hotel, and drove around the city for a little bit. Went to a mall, hung out for a bit, before meeting up with a friend for dinner.  After dinner, we decided to have an early night in the hotel. Both of us turn into major vegetables when on vacation, and we take any chance we can get to just veg out together. #truelove, right? Was a decently early night for us, and we couldn't wait to get to sleep.
We slept in a little bit, then went out for breakfast. We actually walked to the breakfast place, which is probably the most exercise we've gotten so far in our journey (sad but true). We had a couple meetings with Andrew's contacts out here, and then we were going for drinks and dinner with a couple other friends. So much fun! I loved being able to see them all again. After a fairly late dinner, we headed back to the hotel to get lots of rest before tackling the rest of the drive to British Columbia.
---
Driving Through the Mountains
This drive was equally gorgeous, terrifying, and long. Long because it's a good day trip. Terrifying because it decided that being in the mountains, oh hey – let's just rain the entire drive for you! And obviously gorgeous because mountains! I drove a little bit of it, but once it got dark and started raining heavier, I pulled over and let Andrew take over. Phew! He was much more comfortable driving his truck in that weather. It was a decently long drive, we didn't arrive at my bestie's house until 10.30-ish? But we arrived! Woohoo! Chit-chatted until the wee hours of the morning (5 years not seeing each other in person will do that), and then finally crashed. It was time to get ready for all the bridal/wedding day madness!
---
Welcome to British Columbia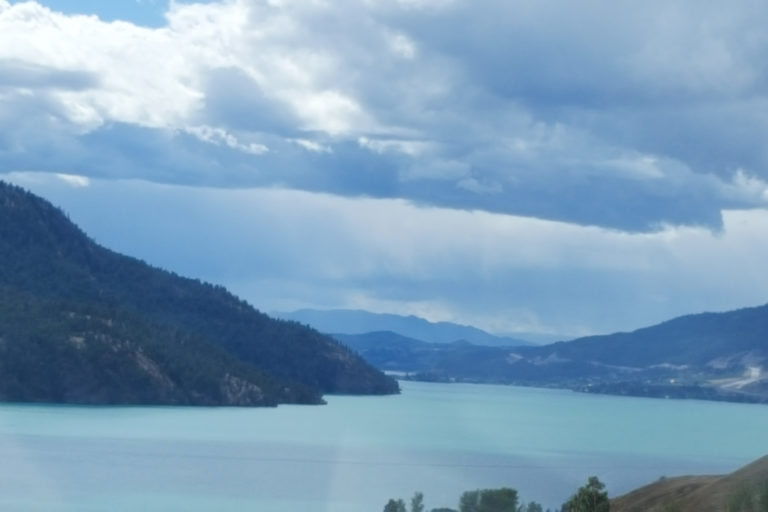 We definitely spent majority of our time in BC. We were in Vernon/Kelowna for the wedding (4 days), and spent most of those days hanging out with my girl, Mal, who I haven't seen in 5 long ass years; and running around doing wedding related stuff (like bachelorettes, rehearsal dinners, the actual wedding…).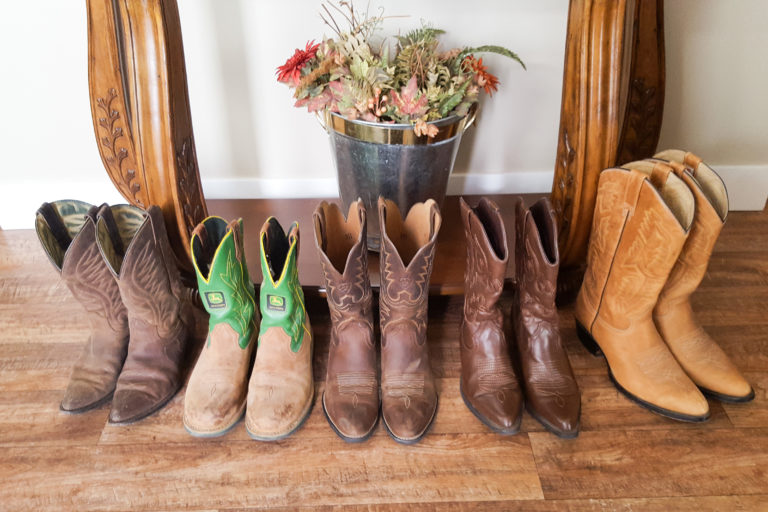 After the wedding, we drove down to Vancouver for a couple days to visit some of Andrew's family, before driving up the coast to head over to the island and Victoria. Gosh, the island is absolutely stunning. I've never been before, so it was a brand new experience. We drove from Vancouver up to Powell River (and stayed the night there). The town of Powell River is so adorable. Right on the water, and where the ferry  docks. Our hotel was a little weird, cheap and I'm pretty sure we were the only 2 people staying there, but it was clean so we didn't complain. Just… really quiet. But we could watch the ferry come in so we knew when we had to leave STAT.
So many ferry rides though! I think we did 4 of them the entire time? Headed over to the island, and drove down to Victoria. We stopped in at Coombs to see the goats on the roof (a legit store with the legit goats on the roof. Total tourist trap – we spent quite a lot of money there even though we were just stopping by…) but GOATS! On a ROOF! Totally awesome. We did make our way into Victoria, stopping a couple more places (Cathedral Trees) and at one of Andrew's contacts that he works with he's out there. They're building this AMAZING horse barn which is just OMG. Jaw dropping. I wish. Definitely not happening here in the future anytime soon.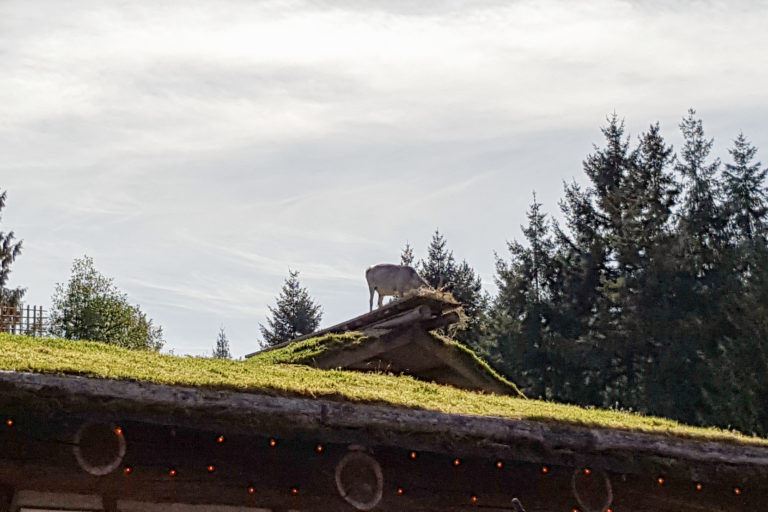 Unfortunately, there was something happening in Victoria so ALL the hotels were either booked or ridiculously expensive. So we did a quick Google and found the closest Wal-Mart, and set up camp. We filled up the air mattress, put the sheets on, and slept in the back of the Canyon. A little cramped, and a little cold (on Andrew's side) but definitely made for a fun night and an interesting addition to our travel story.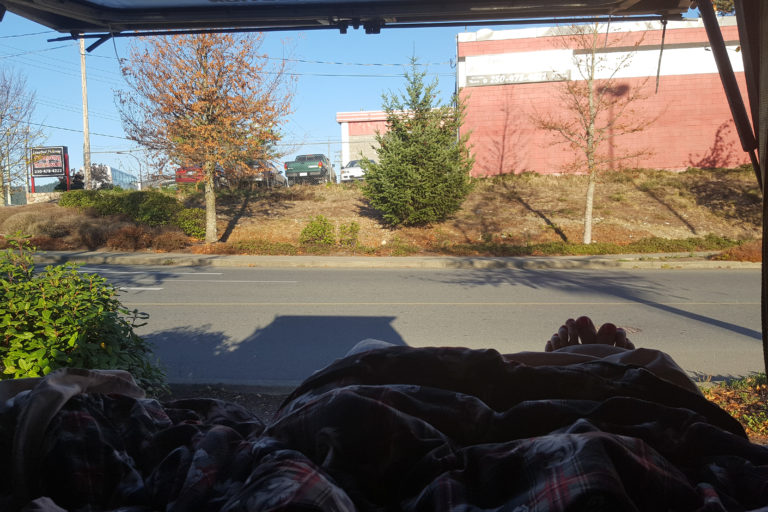 In the morning we headed into downtown Victoria and I went around a little bit by myself since Andrew was being slow and on the phone. Checked out the parliament building, which was pretty neat, and then did a little bit of shopping and browsing with Andrew when he caught up to me. Then we had lunch on the dock of the ocean where you could watch the seaplanes come and go. Such a great way to end our visit to the island.
---
Heading Back Home
And just like that, it seems like it's time to go home. Granted, "going home" for us meant practically another week of vacation, but hey! That's what happens when you drive. We had dinner and stayed one night in Vancouver with friends. On the way back to Lumby, we decided to take a different route and hit up a couple wineries (and picked up a TON of wine…) before spending one last night with the bestie.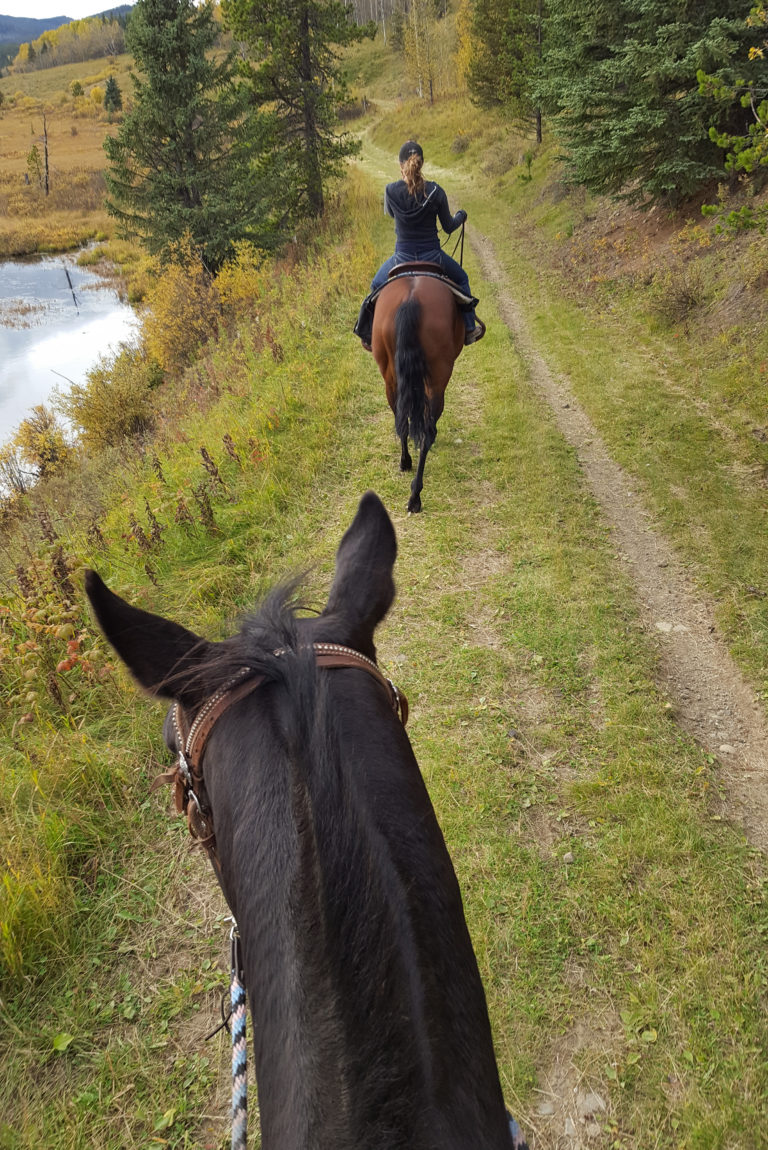 We headed into Calgary to meet up with Andrew's friend, Kyleigh, who had arranged for us to go on a trail ride with her and a couple of her friends' horses. It was definitely interesting, and even though I'm an experience rider – Andrew is not. There were a couple of moments where I was like holy shit and that's not good. BUT we both survived, regardless of herds of cattle and scary marshes. Another fun story to tell about our trip after the fact. Another fun dinner out and then crashed for the night. We did plan on doing another stop on our way out of Alberta, but decided that we didn't have enough time and that we'd always be back.
Another (long) but quick drive through the prairies, and we ended up at Andrew's sister's place again for the night. We left a little bit later than we wanted to, and decided to just push it and get home. We drove straight through the night and it felt like such a longer drive than it was coming up! Way longer than 19 hours… plus that hour we gained back.
Needless to say, we rolled into the driveway at home at 7.30 am – rough! I wasn't sure if I should start my day or have a nap. The nap definitely won out. Andrew and I fell into bed and planned our clean up after a little bit of a nap. Driving 19 hours straight even with naps in the back seat aren't ideal!
---
Would we definitely do it again? Of course! We crazy like that. We love our road trips, and can't wait to do a couple more of them. I think we'll try and go to Florida or somewhere in the States next year. Maybe.
Do you road trip? What are your experiences?
J x
---
---