Beauty :: St Ives
St Ives. A brand that I consistently reach for in my beauty routine. And one that I consistently repurchase.
As a kid, it was always the St Ives body cream that I reached for. Once I hit high school, it was the glorious apricot scrub that I would use EVERY where. Silky legs? Thank you. College was when I started dabbling with new brands and my acne had hit an all time low so I went on prescription stuff.
Now that I've hit what I think to be over the hill (haha 27…) it's time that I figure out what products work for me and USE them. I think that the days of dabbling with brands might be over for me. Time to get into a routine. (But this doesn't mean make-up, I am still going to dabble with that!)
While I was browsing the shelves of Shopper's Drug Mart, looking for my next beauty routine, my eye landed on the St Ive's Green Tea line. I was introduced to the green tea scrub back when I won Natalie's giveaway at Ivory Avenue. I really, really enjoyed it, and it's been a consistent repurchase since then. I even got my mom onto it!  I had no idea that they had a whole line of items, and luck would have it that they were on sale when I went in looking.
So far, my beauty routine has gotten back into scrubs, cleansers, and creams. And I'm really trying to use them every day. Bonus, I actually think that it's working!
Scrubs: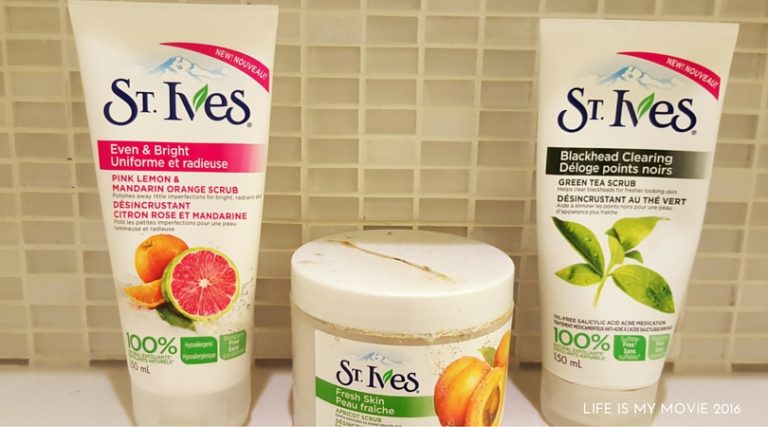 Pink Lemon/Grapefruit – I purchased this because I needed a scrub and they didn't have the Green Tea one. I found that this one is a little too light on the 'grit' feel, and is better suited for skin that's a little less maintenance or less acne/blackhead prone. I think this will be one that I'll use when I get my skin under better control.
Green Tea – This is an absolute repurchase for me. I love the feel of this scrub. It's not as abrasive as the apricot scrub, so better suited for faces, but still has enough 'grit' to actually feel like it's doing something. It makes my skin feel so smooth and cleansed, and is probably best suited for every other day use.
Apricot – I'm pretty sure that everyone knows about this scrub. It's a little too harsh for my face, but it's amazing for my body. I use this about once a week, and just go over my whole body for the silky touch softness. It's especially awesome since I have such crap skin.
Cleansers: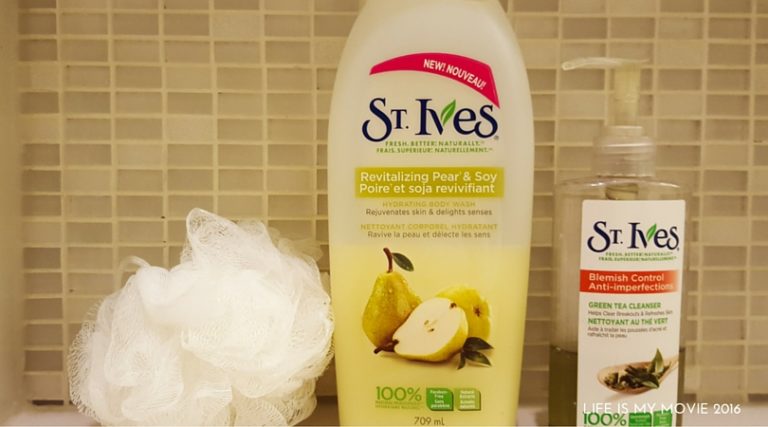 Green Tea cleanser – This was a pleasant surprise. My skin feels refreshed and cleansed after using, and doesn't seem to dry out my skin after washing either. It has a nice scent and isn't overbearing.
Pear and Soy body wash – Smells yummy! The main reason I grabbed this was because of the pear. I love anything and everything that has pear in it! It's not an overpowering pear scent which is nice. Just light and fresh. You don't need a lot on a loofah because it foams up quite nicely.
Upon further research, I've discovered that St Ives is not cruelty-free, so if that's a deciding factor for you – give these guys a miss. Apparently they used to be, but that isn't the case any more. I was excited that they are Paraben free, and some are Sulfate free, but this is definitely disappointing to find out. Especially since my skin likes them and they are inexpensive!
---
Are there any brands that are consistent repurchases for you? Anything that you would recommend for me to try?


---
---