Toronto :: National Ballet Season 2016/2017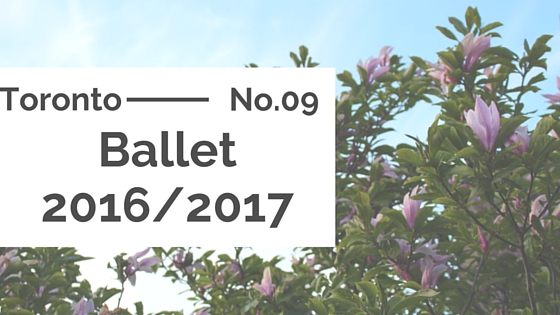 It's that time of year again! The National Ballet of Canada released next year's season of performances, and I'm so pumped!
I've already chosen the ones that I'm definitely going to be seeing, and although every year I say that I'm going to get a subscription, this year I don't have enough that I want to see to warrant that purchase.
For the 2016/2017 season, the National Ballet of Canada proudly presents:
Cinderella November 12 – 20
I saw this one a couple years ago, I think it was the first one that I went to as my introduction to the ballet world. It's an excellent one to start out with, since everyone knows the fairy tale which makes it easy to follow. It's the perfect mix of romantic and humorous, as the wicked stepsisters definitely are exaggeratingly wicked!
Onegin November 23 – 27
I saw this one back in 2011 with my mom and absolutely loved it. A little bit more tragic, and while not one of my favourites, definitely worth it to see.
Pinocchio March 11 – 24 
How amazing will this one be? Just to see how the costume and set design will be portrayed will be worth it. The fairytale is rather dark, so it'll be interesting to see how dark the ballet takes it.
Genus & The Concert March 29 – April 2
The only one this year that's a compilation; it's like getting 2 ballets for the price of one. I actually really enjoy these after attending the first gala performance!
A Streetcar Named Desire June 3 – 10 
I think I'm the most excited for this one. An extremely famous play by Tennessee Williams, turned into a ballet? Sign me up! I think it'll be fascinating to see how it's done without words. Everyone knows the famous line of "Stelllllla!" but being a ballet… I doubt that will be there. Although, if you watch the video above, it looks like it's set after the play ends, and is focused around Blanche DuBois' psyche.
 Swan Lake June 15 – 25
I'm pretty sure that whenever you talk to some one about the ballet, they immediately think Swan Lake. Read about the time I saw it a few years back here.
---
So many times there are movies, plays, and ballets that make me want to read the originals. I think I'm going to need to grab a copy of A Streetcar and add that to my TBR list for this year. I've got plenty of time to cross it off my list.
Of course, there's also the annual Christmas classic of The Nutcracker, as well as a very exciting venture with the Art Gallery of Ontario. (This is totally a 2 birds, 1 stone kinda thing) August 31 – September 10, they're presenting The Dreamers Ever Leave You, which will be an immersive ballet inside the AGO with live music. I will definitely be getting one of these tickets! They go on sale March 24, and will most likely sell out quick!
Anything pique your interest? Will you be attending the ballet this season? Are you like myself, an avid ballet goer? Let me know!


---
---