Baby Bump :: Shopping Maternity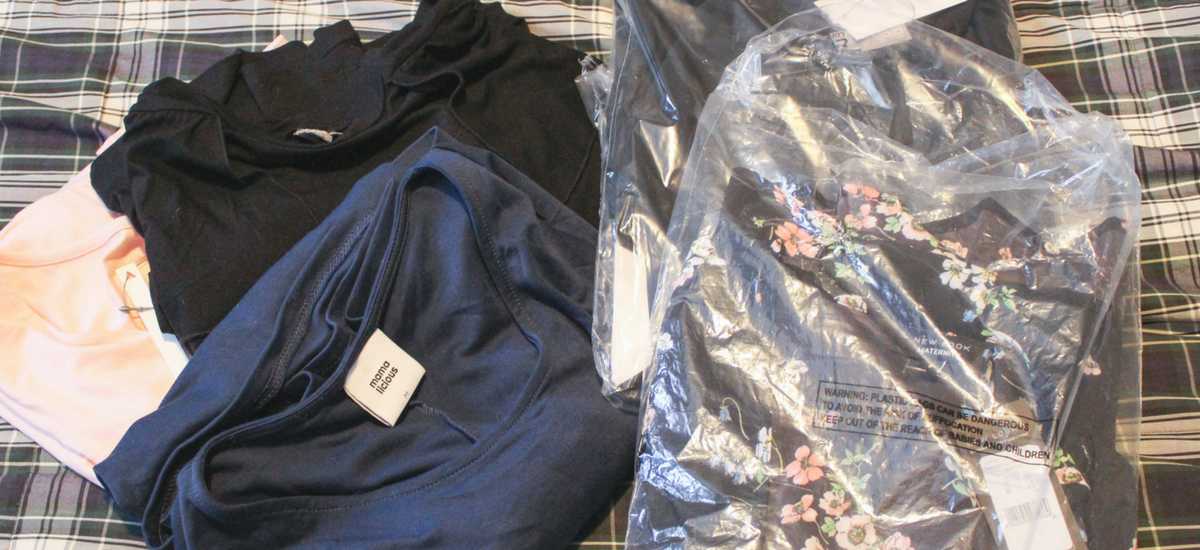 Who knew maternity clothing would be so tough to find?
I have been extremely lucky in the fact that I was 5 months pregnant and just recently bought my first maternity item to help extend the life of my jeans. But I'm being extremely frugal with what I am buying, and it's come to my recent attention that it is TOUGH to find discount maternity clothing. So far, Old Navy  is the only place that sells clothing without having to go to a specific maternity only store, like Thyme. Although, I did recently discover that H&M and ASOS sells maternity online as well.
I was kind of surprised that Winners and those didn't have a maternity section, but hey. I've been shopping at Wal-Mart too, just for leggings. But (shock to me) I'm so tired of leggings!! Yes, they are extremely comfortable, but I have only so many tops that can work with leggings right now! I went into Garage the other day and looked at some nice tops but think I might have to head out to Dixie Outlet Mall and see what they have on clearance. This year is all about how thrifty I can be.
But, I did happen to buy one item – the FIRST.
I went into Thyme Maternity and was just browsing, and noticed the belly band. It is a band of stretchy material made to look like the bottom of a tank top. Pop it on over the waistband of your jeans, and it hides the fact that your jeans might not be completely done up any more. Which mine haven't been for about a month now. This is probably the best thing ever right now, since this means I can start wearing jeans again, and don't have to buy more jeans!
So when I bought it, they asked if I wanted to sign up for their 'Bumpfie' Bump Benefits* rewards program. I joined up, because hell, I'll probably be back there sooner rather than later. They had a cute little welcome gift, as well as a whole bunch of coupons. Remember, thrifty Jasmine? Well that spoke to me for sure! I will grab a couple other items that I've been procrastinating on.
And then I grew. Suddenly my looser tops and dresses weren't fitting anymore, and I knew that I had to buy a little bit more than the belly band.
So I went on a little ASOS spree.
I enjoyed shopping on ASOS because they were definitely the cheapest place online. I've purchased from them before, and haven't been disappointed with quality so I decided that I'd take the plunge. I bought 5 dresses and a pair of nylons, and only returned one dress (it didn't fit).
I'm absolutely in love with the dresses that I did keep. They're just so comfortable! The one I returned was slightly fancier, which would have been nice but the chiffon just had absolutely no give to it, and I was worried about my shoulders just ripping through. And I had a (small) panic attack because I could barely get out of it after trying it on. The nylons are fantastic because they aren't constricting at all, which is highly important when you start getting larger!
These have definitely grown with me, and I'm looking forward to the fact that I purchased silhouettes that will be flattering post-pregnancy as well.
I've just recently found that Wal-Mart also has nursing bras, so I grabbed a couple from there just to try them out. One isn't as flattering, but the wireless ones seem to be much nicer. But they do in a pinch and are 1/2 the cost of the Thyme Maternity ones! Bras are always annoying because I know these most likely won't fit once my body starts going back to normal.
Where are your go-to pregnancy/maternity stores? Let me know!
J x
*This isn't sponsored, but I think that it's a neat idea that Thyme Maternity has put together. It's worth checking out if you are expecting!
---
---